Wildcat Falls Conservation Area
Downloads
Click here for our Trail Map*
*Note: The trail map is designed to be a tri- fold. This means you should try to print the map double sided and then fold it so that the map is in the middle and each side is folded in over the map. Follow the link to see what a tri-fold looks like.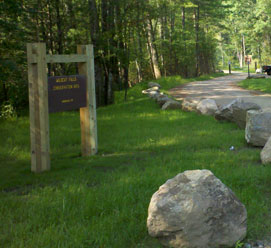 Description:
Wildcat Falls Conservation Area contains 87 acres of managed pine/hardwoods forest, abuts the Souhegan River and includes Wildcat Falls, a popular area. A stand-alone portion of the Heritage Trail system extends from the entrance to the falls. A PSNH power line crosses the land and provides and excellent area for bird watching and wild blueberry picking. An area cleared of trees as the result of a forest fire provides excellent views of the Souhegan River and an opportunity to watch for the elusive American kestrel and other wildlife.
Bordering the Conservation Area to the east is a state-owned parcel of land abutting the Everett Turnpike. Although the trails are not maintained on this land they are usable and will connect to a crossing under the turnpike where they will in the future connect to a trail system leading to the high school, to Watson Park and across the walking bridge over the Souhegan River to West Chamberlain Road.
Unique/Historic Features:
The History of Merrimack notes that the falls were originally known as Atherton Falls due to the location of a dam located in the area – no indication of the structure remains – before it became know as Wildcat Falls at a time and for a reason not recorded. Originally owned by the NH DOT, the land was sold to Merrimack in 1970 for $1.00. For many years it was known as "80 Acres" until in 2009 the Town Council renamed it to reflect the natural feature that attractes many of the visitors - Wildcat Falls.
Helpful Info
Address:
Off Baboosic Lake Road at the intersection of Currier Road and Hemlock Road
---
GPS:
42° 51'45.38" -71° 30'19.57"
---
Permitted Activities:
Permitted activities are subject to the Town Code Chapter 111 and include hiking, biking, fishing, skiing, and similar passive activities.
---
Not Permitted Activities:
Motorized vehicles, camping (without a permit), fires and hunting are not permitted per Town Code Chapter 111.
Although swimming at Wildcat Falls is not restricted it is dangerous and is not encouraged.
---
Hours of Use:
WildCat Falls Conservation Area can only be accessed from 1/2 hour before sunrise till 1/2 hour after sunset per Chapter 111 of the Town Code.